The hair I'm wearing is the Brazilian Deepwave Curly Virgin Hair which I bought on Aliexpress from the vendor MaxGlam Hair. The hair lengths: 3 Bundles – 14inch, 16inch & 18inch with a matching free part 14inch closure.
Initially, when I received the hair, the first thing I noticed was how soft it was. Now I've tried brazilian deepwave curly hair before from a different vendor, so I was impressed by how soft and bouncy the hair actually was. The weft was well constructed and there was no distinctive smell.
I co-washed the hair, to clean and remove any chemicals it may have had and also to revitalise it's curls, then left it to air-dry. Afterwards I made it into a wig. I doubled the wefts and sewed it from ear to ear, until I got to the front where I then sewed the laced closure. I sewed the 16inch at the back first and then the 18inches in the middle as I wanted an even length. Once done I did trimmed the back of the hair by 2inch, just to balance out everything and create a more symmetrical afro look, I also lightly trimmed the very front of the hair (the two side bangs, that frames my face).
When it comes to styling I've been interchanging it, between having a define side parting and a messy curly look where I leave some hair falling in front to create an almost fringe-look.
Pros:
Minimum shedding only occurs when I detangle and co-wash the hair.
Very soft and bouncy texture.
Lightweight.
No strong smell.
Fast shipping (DHL 3-5 working days).
Can take heat and straightens well.
Good communication with hair vendor.
Cons:
Require a lot of maintenance and care (regular co-washing necessary to revitalise curls).
Closure tends to get frizzy quite easily (may be due to extreme humidity in Singapore).
Closure not as great quality, overtime curls have drop and aren't as define.
Conclusion: ★★★★ (4 stars)
Direct link to hair: 3 Bundles + Matching closure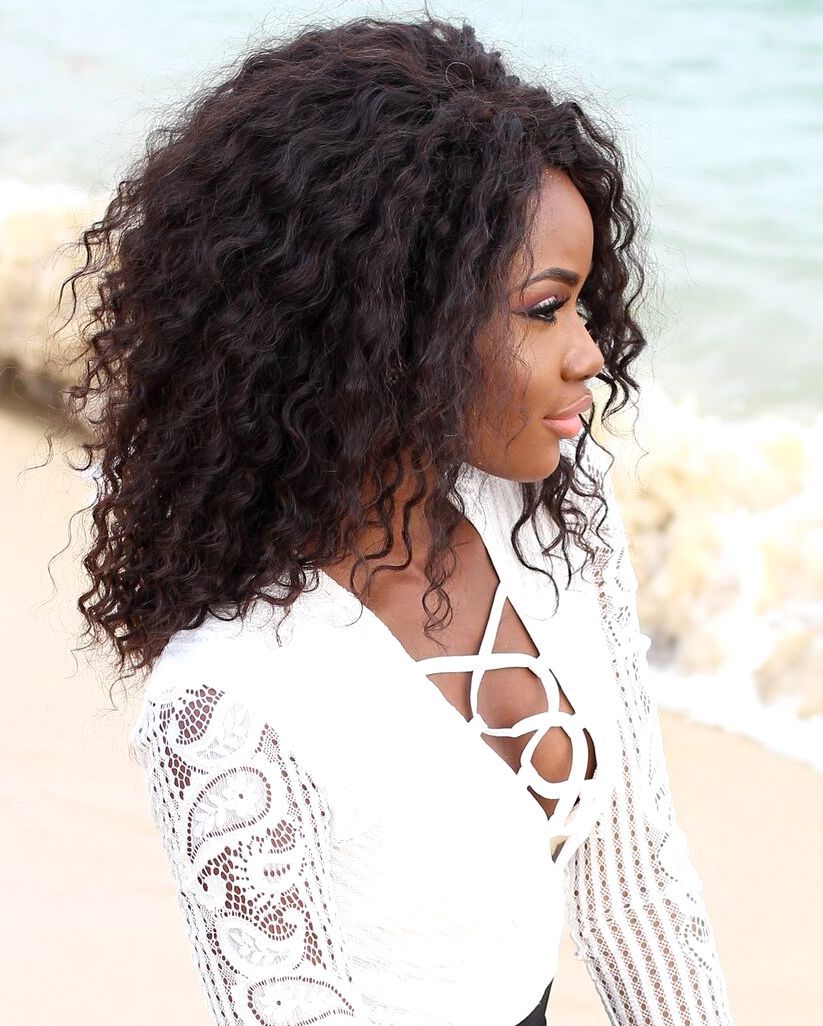 Tips
To keep my hair in top condition, I co-wash my wig every 3-5 days which redefines it's curls, ensures a soft and bouncy texture and an overall healthier and newer look. Here's a video on How to co-wash deepwave/ kinki hair.
The days when I don't co-wash it, I spritz my hair with a conditioner and water spray (1 part conditioner to 4 parts water) which adds life back into the hair!
Wig making accessories:
Direct link to: Wig Cap 
Direct link to: Mannequin Head
Direct link: Elastic Band (used to ensure wig security)