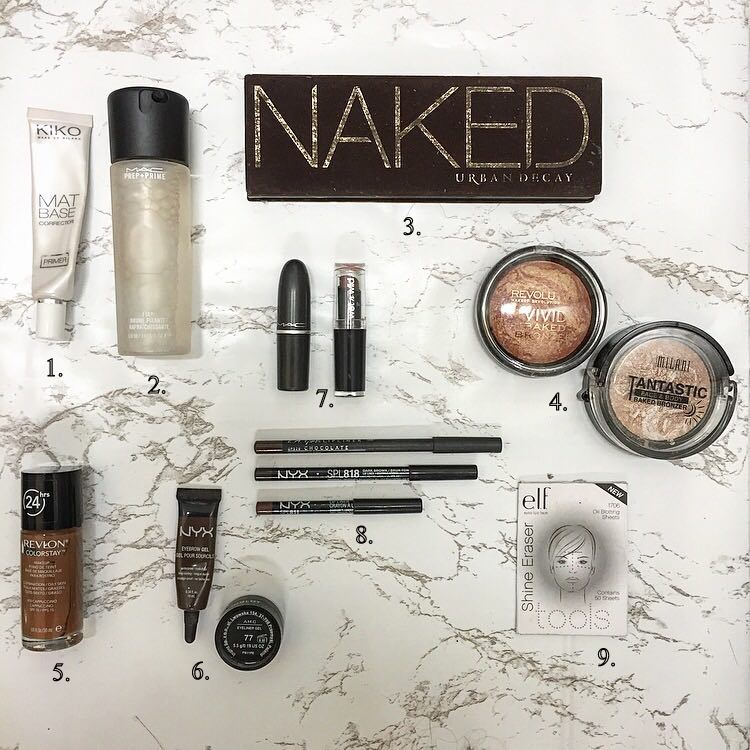 Hey guys, so I thought today I would share some of the beauty products that I've been really loving and using constantly for the past few weeks.
1. KIKO Makeup Milano: Mat Base Corrector Primer. Since I have oily/combination skin, a mattifying face primer is an essential for me and this particular primer has been an absolute life-saver for me the past few months especially with the extreme heat and humidity here in Singapore. I apply it a few minutes after moisturiser and it just helps smooth the surface of my skin while mattifying it.
2. Mac: Prep + Prime Fix +. I use the Mac fix + after I am completely done doing my makeup. It helps remove the whole powdery dull look while helping with the overall finish of my makeup, helping everything blend well together and adding a natural glow.
3. Urban Decay: Naked Eyeshadow Palette. I've been using this palette for years now and it's definitely one of my favourite palettes. The shadows are super pigmented and really looks beautiful on the eyes. Although it is on the pricey side I would definitely say it's one of those that are worth the money.
4. Makeup Revolution: Vivid Baked Bronzer and Milani: Tantastic Baked Bronzer. Like almost everyone I have been obsessed with the highlighting, strobing and glowing trend. Something I like to do is layer my highlighters together and these two combined, looks absolutely bomb! They're golden toned so they really complete medium to dark skintones.
5. Revlon: Colorstay Foundation – Cappuccino. I've nothing but love for this foundation. It's affordable, medium to full coverage and long lasting.
6. Nyx: Eyebrow Gel – Espresso. For my brows this eyebrow gel has made life easier. It's affordable and really does help create that HD full brow look.
Inglot: Gel Eyeliner – No. 77. This eyeliner is amazing. My eyes tends to water a lot and even still this gel does not smudge or wear out and it's a really black colour.
7. Mac: Matte Lipstick – Antique Velvet and Wet n Wild: Lipstick – Mochalicious. I have been literally obsessed with brown and nude lips lately. Two which I always tend to go for are Mac: Matte Lipstick – Antique Velvet which is a dark brown and Wet n Wild: Lipstick – Mochalicious which is a nude mid-toned brown. Both are matte and works with almost every makeup look.
8. La Girl: Lip Liner – Chocolate (Dark Brown), NYX: Lip Liner – Dark Brown (Dark Brown) and NYX: Lip Liner – Nutmeg (Nude Brown)I'm a lipliner girl, so I literally use lipliner everytime I wear lipstick. I'll line the outer edges of my lips with a dark brown to define its shape but also to help the colour blend better with my skintone. I'll also fill in my lips with liner and find that it helps my lipstick last the entire day without the need to reapply or retouch.
9. E.l.f: Oil Blotting Sheets. Like I said before the climate here in Singapore definitely isn't makeup friendly especially for oily skin, so throughout the day I like to blot my t-zone with this blotting sheet. It helps absorb the excess oil and doesn't remove any makeup and the fact that it's only $1 definitely makes it a complete bargain.
Websites I use to purchase some of these products online: Amazon, Ebay, ikatehouse and Beautyjoint.
Thank you for reading,
Billykiss